UTS was originally created as Galactic Federation, until the Mutiny of Ben Epsilon to create his own Galactic Federation. Which becomes FEDS in 2006 and is the clan that merges with Federation Command [FC] to become The United Federation of Planets. As of current most clans mentioned here do not exist except for FE, XG, [FC] and [UFP].
Fleet History
The Galactic Federation was conceived on May 10, 2005 by a group of people who has the dream, passion, and desire to form the best and top best Sci-Fi based clan ever created by playing games such as Halo, Elite Force, and Legacy. Our clan has had falls in the past, but has always managed to pull through the harsh times of pain, and hell. Formerly known as the "Galactic Teens", we at first were dying until Fleet Admiral Dark_Hunter reformed [-GT-] into what is known as "[-GF-]" today. After GT was reborn into GF, we wished to make our clan much stronger by expanding into many Trek and non-Trek based games alike, we then had the passion to create a strong, but fair structure where order can be brought, where our members can go boldly beyond the Chain of Command, we wished to create a highly-evolved structure where many of our serving soldiers can cooperate with. Our clan believe in the true principle on Courage, Honor, and Discipline, we are a strong, competitive clan that believes in the good name of FUN! We are a clan with a highly-advanced command structure, and with countless experienced officers and soldiers that are considered Veterans of the gaming community. We wish to keep the Sci-Fi gaming community alive, we have the desire to make sure that people do not ruin the fun for others while playing, we wish to improve the game experience for each and every one of our members to give them a feeling of satisfaction while in our clan.

Trust me, if you wish to be in a clan that knows the ups and downs of the community, if you wish to serve in a clan that can help you in the long-run while gaming, if you want to serve with people that know what they are doing around here, and if you wish to serve in a clan where there is a stable command structure, and a place where one day you could become a honored soldier of our forces. If so, please, don't hesitate. Look no further, you have just found the right clan for yourself to serve in. Join us today! You won't regret it!
Sincerely,
Fleet Admiral Dark_Hunter
Demise of Galactic Federation
A highly important announcement from myself....
Greetings fellow officers, diplomats, enemies of the state...
As many of you know almost two months ago, there was a great change withen the community, the Insurrection conceived by Ben Epsilon and Zephyr... their rebellion has greatly caused great confusion and controversies throughout this community, simply because they made the unlawful and wrongful decision to attempt to remove myself from office as CO of the fleet. Many clans, including RS, XG, GR, FE, and others disapproved of the GF's council decision to remove me from office, others considered the decisions cruel, distasteful, and immoral. Many of you believe that Epsilon is the main cause of this mutiny towards myself, that is false. Epsilon is an accessory to the rebellion, the true leader of the rogue GF insurrection is the person known as "Zephyr" I have discovered he, not Epsilon, is the one who created this insurrection, is the one who has created many lies of things I have nor would I ever think of ever doing. One of them is by making a statement that I did not "take" the mutiny well and began to ban everyone and spam the forum. This statement is false due to the fact that Epsilon removed my admin access before I could even consider banning him, second, I would never ban my own council members. Second I did not spam the forum, I was standing upon my behalf on what I felt about the mutiny, and I only made a single post, which would not be classified as spamming. Epsilon indeed is the one who did not take this situation maturely and under the influence of Mr. Zephyr to ban me from the rogue GF forum. I have also made another discovery, that is Trinix has discovered the dirt that Epsilon and Zephyr was performing, therefore he was kicked and banned from the GF can and it's forum without himself standing upon his behalf. Meaning that Epsilon and Zephyr has formed GF into a dictatorship, which cruel, unfair, and is considered as a poor sport.
Another discovery that I have made on the rogue GF site, whose design brings great disgrace to GF's name. I have fully read their new and somewhat improved CoC, including the following subsection below which is related to their member conduct:
Subsection 1
All officers, regardless of rank, must conduct themselves in a mature and professional matter at all times. Flaming, harassing, spamming or any rude, abusive or threatening behavior will not be tolerated. The only exception is when an officer asks for (and is granted) permission to talk freely; all officers involved in the conversation must grant permission, regardless of rank. This exception does not apply if the officer(s) in question is chatting with another clan/fleet.
If so, why did Zephyr who appears to be the rogue's REAL leader flame me while I played him in-game: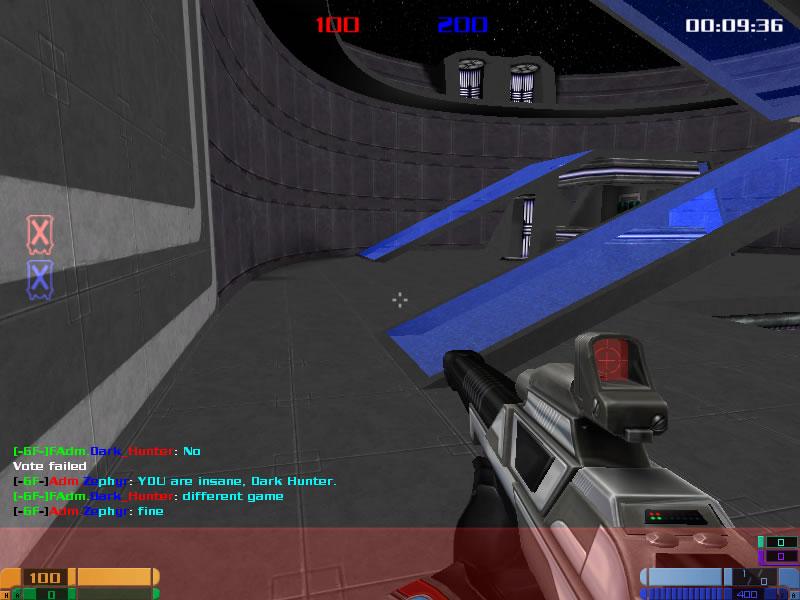 As some of you may have noticed of my absence, I apologize for that. However, I can assure each and every one of you that I will be online for our fleet's biggest project yet, as featured below.
I have came to the conclusion that attempting to make people believe that we are the real GF and Epsilon's GF is not brings in confusion within both parties. For this reason I have been conceiving some proposals to give to the leaders of "Red Squadrons" and also to the leader known as Mario of a somewhat new clan resembling from FEF known as "The New Federation." I am working upon a convincing proposal that can unite these clans together, the true GF, RS, and TNF. From this will be a new clan, known as The United Federation Vanguard.
I have also made the decision to change recruitment guidelines and member enlistment guidelines. Instead of having our members serve under the rank of Cadet for one week before receiving a rank, every new recruitment must remain as the rank of Cadet for exactly 4 weeks before receiving the rank of Ensign. During this time every recruit must learn, tactics and strategies during a stage they will be in known as "Basic Training" After every cadet completes basic training, a certificate will be rewarded to every member who successfully completes the 4 weeks, and will receive the rank of Ensign as well as an assignment within the clan. The reason why I've created this amendment is because I want the members to get the "feeling" of deserving a rank, a "feeling" of deserving to serve in this clan. I also wish all of my members to enjoy serving with us.
Now I understand that some of you dislike Epsilon and Zephyr for what they have done. But I order each and every one of you to NOT engage any rogue GF member, we are to stay neutral with their fleet as much as possible. This includes absolutely no flaming, harassing, etc. However, if in the case that a rogue GF member does flame any of you, do not flame back, instead, you are to save all screenshots, chat logs, and any other proof and immediately report all proof to the council. From there and only there shall be initiate offensive actions against GF, not before.
I am proud and thankful for each and every person who stood up for my behalf, and has done their very best in ending this brutal conflict. I wish to personally thank James Morianna from FE, Gilligan from KO, SunTzu from XG, and many other people who have stood up for what is right.
Our GF is no more, we are now the United Federation Vanguards.
Dismissed.
This message was made by [UFV]FAdm-Sisko on December 15, 2006
Games Supported (Circa Sept 2006):
Star Trek: Armada II

Star Trek: Voyager Elite Force Series

Star Trek: Bridge Commander (KM 0.9.1 ONLY)

Star Trek: Starfleet Command III

Star Wars: Battlefront Series

Star Wars: Republic Commando

Halo

Halo: Custom Edition

Star Trek: Legacy