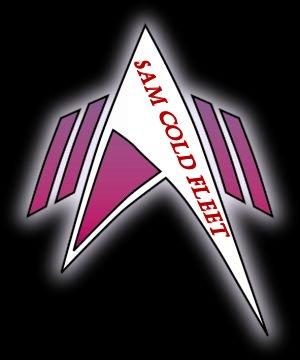 Samcold Fleet was created in Late 2004 by Samcold and RevDem Z, after leaving the Devil Dogs clan lead by Hawkeye.
Samcold Fleet was one of the Main defense clans of Stock 1.1 against "The Mighty Devil Dogs" along with XFS, DW and other clans.
Samcold Fleet had a few Non Aggression Pacts with clans such as Majestic-12, Tal Shiar, DW.
In Late March of 2005 the clan merged with another clan from Bridge Commander and was destroyed from the the inside out and Disbanded in April 2005. Most members went to the X-Fleet Sentinals (XFS).
According to XFS Zii, he says that he disbanded the clan due to the Leaders running Off or leaving the clan.
The Clan was reformed for 2 days in November of 2005 after the demise of Planetary Legions but failed.
Ranks:
The clan originally started off with Star Trek Ranks but moved onto Presidential Rankings.
Roster:
President Samcold (Now Khan Noonian Singh)
Vice President ReverendZ (Retired former President of X-Fleet Sentinels)
Chief of Staff OnlyAshes (Command Officer, Temporarily SFTF Diplomacy CO 2005)
Fleet Admiral Beau (Command Officer)
Admiral Galaxy (was known as Odin)
Archer
Trip
Games Supported:
Star Trek: Bridge Commander - Stock 1.1, KUU2
America's Army 2
RTCW - ET
Freelancer